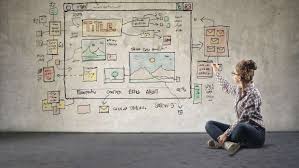 Sometimes when we look in the mirror we like what we see. Sometimes. Other times maybe we know we need to make a change. We just want to look better.
Maybe it has been three years or 4 years or really 5 years or more since you have redesigned the firm's website. What is it that made you decide to act now? Are you feeling pressure to do something? Why? What arbitrary clock has ticked enough so that you decided to act? Has it been too many times that you have thought to yourself – it just doesn't look good enough? Well you know those are the quick judgements that your potential clients make too. And does that reflect on the work you do? Or do clients think like you – "We are too busy doing work for clients?" The "Design Shelf Life of a law firm" can vary, is it 3, 4 or 5 years? It's something that you feel (and you feel others feeling or thinking.) Maybe it's when a client mentions your website or you see that a fellow lawyer from a competing firm with a new updated website that get's you to act.
Because online marketing is so necessary for attorneys, it is important to have the best design for your site that you can. Also that design should tell the story of your firm or your practice in the most effective way. And should do it every day through news, social media, and content. And you should tell it using core principles of good SEO.
The design and SEO should work together. For design you need a designer that can take a concept for what your firm stands for and then represent that in a way you find pleasant. And that you think others will like – with the right amount of guidance and input from you it doesn't need to be painful. You need to remember that you will arrive at a design you like and that will be better for your firm. It's really that simple if you have someone to guide you through the process.
For SEO, the first step is that your firm needs to target the right terms, not just the main terms with high visibility that other lawyers are searching but a wide universe of terms related to potential client needs and questions, and the services and practice areas you provide. Then you need to decide on a platform and framework that allows those words and content to be present in the site. The more people that can edit and maintain the site the better for SEO. Technically it needs to be optimized but then it will need to be optimized going forward. The frequency and volume of relevant and original content is what Google wants to see. Your firm's web presence is no longer one website – it is a network of websites – keep that network updated and interesting and you will reach more potential clients and it won't hurt when you look in the mirror!